I don't know why, but Pennsylvania was calling my name over the Thanksgiving holiday. Literally, the DAY before Thanksgiving, we arranged the whole thing. Since we have ripped up carpet and a cement slab as the warming, hospitable place where we would normally be eating Thanksgiving dinner, we just decided to skip town.

In case some of you were still left hanging, I might not have clarified that we DID get the Honda Odyssey. So we christened it by taking it on a little road trip, and ate at Plain & Fancy, an Amish Farm, in Bird-In-Hand, PA. It was a delicious traditional home-style Thanksgiving dinner.


Then we stayed at a Bed & Breakfast in Mt. Joy, PA. It was a beautiful little place that served an amazing breakfast & was decorated with the most beautiful antiques. It was located on a working farm. So Eli got to gather eggs with the teenage boys who lived there, and play around on the farm- hayride, rope swing in the barn, petting the animals, etc. Click on the collage to see the photos up close. It was a fun experience tainted only by the fact that I could see my breath laying in bed in the middle of the night, our room was so cold!! And oh, also, Mia got up in the morning and puked right at the foot of the beautiful antique bed. I guess the Amish dinner didn't agree with her. Poor little thing.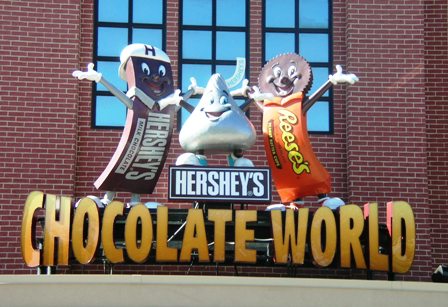 Luckily, though, she felt ok the rest of the day. We took them to Hershey, to
Chocolate World.
We had the little tour of the chocolate factory, and did our share of tasting. I'm a Mr. Goodbar fan, how about you? The
new flavored kisses
aren't bad, either. Chris likes the new line of chocolate called
Bliss
. Mmmmmmmmm.
The
theme park
was also open, decorated for Christmas & only cost 10 bucks! All the rides were open except the scariest thrill rides and the water ride. So for our kids, it was perfect! It was actually the first time they've ever been to a theme park. The closest they've gotten in their short little lives was the boardwalk at Ocean City! So they loved it. We earned a few parenting brownie points, finally. :)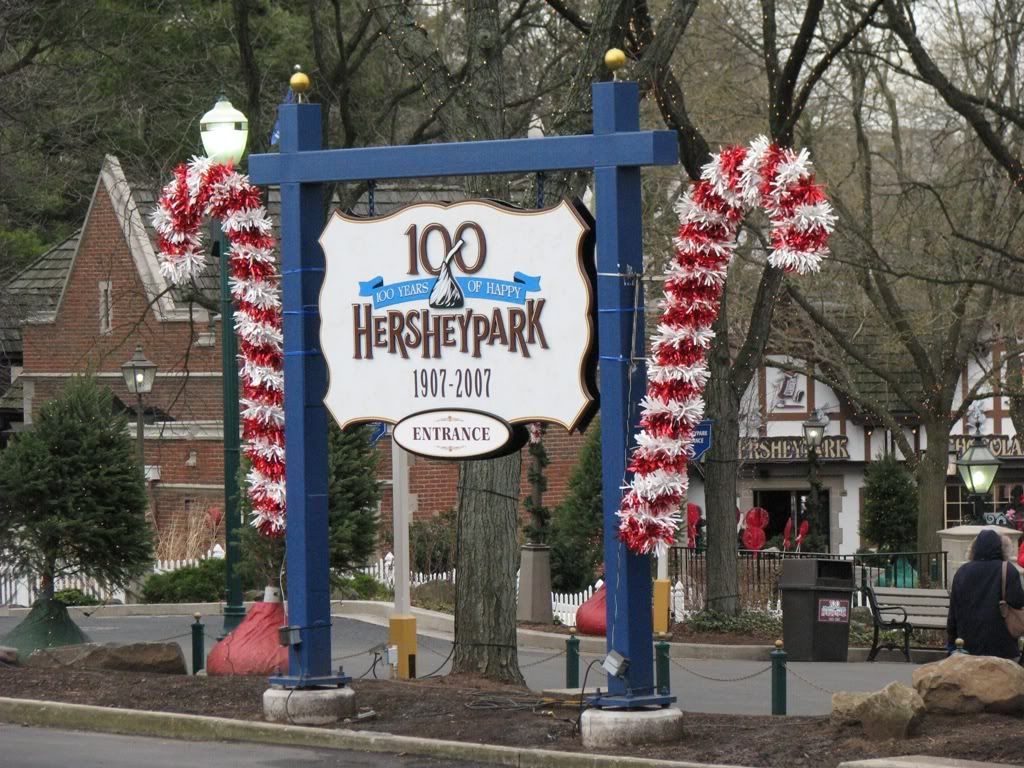 But it was also so nice to get to away. Total treat for Chris & me. Other than 2 trips to the beach, I'm ashamed to admit that we haven't been on a road trip like that since before we had kids. That's definitely going to change now that we've tasted a little success. (No pun intended! Ha!) Yep, even with the frigid lodgings & puking child. I think it was a great trip.