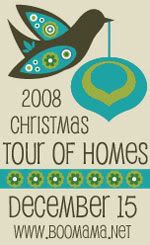 Oh did I say December 15th? Because I meant 12:07 am on December 16th. Ever since I graduated from law school, deadlines & I have not gotten along. I feel I shouldn't have to be bothered by them. Too bad the rest of the world doesn't feel that way.

Now on to the tour. When we were first married, I started to realize how important keeping Swedish traditions were & I bought a boat-load of Ikea traditional Swedish decor. If I replaced it, I'd miss it. But it's not really a question since we have neither the room nor the budget to change the decorations every year. It's just stayed this way for 8 years! But I like it. Incidentally, yesterday was St. Lucia & someday I'll be organized enough to bring my kids to a Lucia celebration somewhere! So the decor is one part Swedish, one part stuff my mom's given me from Germany, one part stuff other people have given me, and one part crafts from my kids!


I guess we'll start outside. I have to explain that as simple as our lights are, we are the total "Griswalds" of the street. No one else in our whole neighborhood has the icicle lights, which I love. So kudos to Chris for being brave enough to get up on that ladder!


Then on to the living room... Swedish stuff... and nutcrackers...  Click on any of these photos, if you want, to see them up close.


Here are some close-ups of ornaments. Most of the ornaments are shiny red balls and Swedish straw snowflakes, hearts, angels, stars, etc. But a few years ago, my sister gave me a set of ornaments with pictures of Christ inside them. Very beautiful. Then I have a few from my time on Capitol Hill. I tried to photograph the back of the one of the Capitol because it has Senator Hatch's signature engraved on the back. Cool. I think I got the White House ornament one year for volunteering for a campaign. The one on the top right is a cut from a branch of the huge Capitol Christmas tree that was from Utah back in 1996.


A few glimpses of garlands we have up in the hall.


One day I hope I have a beautiful dining room table all done up. Not so much now. Just smashed up Cheerios and spaghetti & yogurt splashed all over the chairs. But I edited that out! Here are some glimpses of stuff in our dining room.


That's about it! Below you'll see proof that my decorations really are as old as I say they are! This is the Christmas card I watercolor-painted for Christmas 2000!



And finally, I have to risk being a bit cheesy. But come on, it's CHRISTMAS!! This is not a Christmas decoration, it always sits up on our bookshelf. But it's the sentiment I hope we all have in our homes as we try to to have soft hearts and voices. Here's an early Christmas wish for you all: I love you all & I hope this Chrsitmas season you're blessed with an added measure of the knowledge that He loves you. We're so blessed that He came into the world & gave us so much.