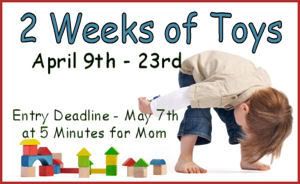 The first plug is for a bloggy give away going on at 5minutesformom.com. All you have to do is leave a comment & link back to the contest in your site, and they are giving away different toys every day. Fun, huh?





Second, I wanted to tell you all about the website, Flickr, especially those of you who take awesome photographs. It is a great way to put all your pictures in a safe place where you will never lose them if your computer crashes or your house burns down. Second, it is really easy to share your latest photos with family & friends. You can label them, put them in albums, and it's free. You get a certain amount of space per month, and you can just keep downloading and downloading. You can either have your account set to private or public, and the best part, which is why I'm plugging this is that they are now compatible with Bloglines. Your friends can subscribe via Bloglines to your flickr account, and see all your new photos right after you download them, without you having to post them on your blog, or email all your family, etc. None of my family or friends have Flickr right now (if I'm wrong, let me know in the comments), but this is my plea: please get a flickr account so I can see all your beautiful families as they grow up!!!!!! And since I read all your blogs on Bloglines, anyway, it will just pop up on my screen as I download them. Can you think of anything easier? I can't!



One last thing, you will notice my sidebar has gotten a little flashier. I found these cool widgets through Amazon.com Associates. Some of you were asking me how I used to do the linkable list of books & movies. Well, now I found a way that's a lot easier. Go to this site, form an associate account, and you can have some cool Amazon widgets on your blog, too. And by all means, if you're thinking about buying any of those books or items from Amazon, ANYWAY, (hey, Mother's Day is coming up!) please do it through my link above, or on any of the links at the sidebar! If you do, Amazon.com will give me a small percentage of the money as a referral bonus.* Cool, huh?

*The Netflix widget is cool, too. It automatically shows you what Netflix movies we currently have at home without me having to go in and change it constantly. If you want to put anything on your queue, there is a link to do that from my widget. There are no referral bonuses or anything like that. It's just a fun way of sharing what we've been watching.