Here's who I want to win:
Actor in a Leading Role: Will Smith, Pursuit of Happyness
Actor in a Supporting Role: Eddie Murphy, Dreamgirls
Actress in a Leading Role: Helen Mirrin, The Queen
Actress in a Supporting Role: Jennifer Hudson, Dreamgirls
Animated Feature Film: Cars
Costume Design: Dreamgirls
I didn't know what to think when I heard bits and pieces of news about the little insults that Rosie O'Donnell and Donald Trump were hurling back and forth. Something about Trump letting Miss USA keep her crown, even though she apparantly is also a porno queen. WHATEVER! I don't even know what the latest update is on their feud. But after watching the second episode of Donald Trump's Apprentice, I think I made up my mind once and for all about who to side with. On that episode, the reward for the apprentices was to go to the Playboy Mansion!!!! Excuse me, WHAT? Are you absolutely kidding me? And Hugh Heffner was there with his 3 girlfriends 1/3 his age, and told them the story of how he built his naughty magazine business from the ground up. And I'm thinking, "YOU BELONG IN JAIL!" It makes me sick inside to know how prevalant the pornography problem is AMONG LDS MEN!!!!!! I have heard the comment that it is more addictive than crack cocaine. And to think how these sleasy men behind the pornography business are just benefitting from the destruction of families and lives.
So how this relates to Donald Trump. He's always had this immoral reputation in the media. But for some reason, his Apprentice show was successful. But I've sort of decided that he probably has that type of mentality that making money is the highest priority and there are no guiding ethics. Get money, no matter what you have to do to obtain it. After the apprentices went to Playboy Mansion, Chris & I decided to boycott the show. We used to enjoy it, but it made me sick enough to leave it behind. I know it's just a drop in the bucket & won't change the minds of the powers that be in the entertainment and business world, but that's my 2 cents, anyway.
5 Things I'm Thankful For: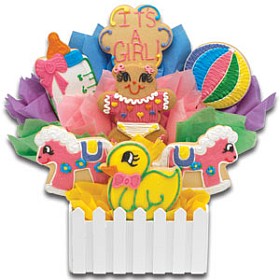 Eli. He's growing up so fast.


Mia. I never dreamed I'd have a beautiful little blond haired, blue eyed girl.


Chris. I also never dreamed that someone not related to me by blood could love me so unconditionally.


My siblings. They are so supportive. I love getting their phone calls, letters, packages, prayers & encouragement. I remember when Mia was born & they found out my anesthesia had worn off during the C-section, they sent me this beautiful cookie bouquet.


My mom & step-dad, George. They do such a good job of getting our family together and loving & serving each other. (My mom is such a good long-distance support, too. There isn't room here to show you all the floral bouquets she's sent me!!)